Together with Acashic, your ideas are turned into workable prototypes and production, pilots and projects, with commercial outcomes, that lead to royalties and ongoing development and production deals.
You can choose to download the printable pdf form below:
Open the pdf in Adobe Reader (you'll need at least Adobe Reader 6.0 or higher) and fill in the required details.
Then attach your Forms and send it to us at the ACASHIC Publishing Contact Page.
OR
Print out the Form and fill in the required details, then post them out to: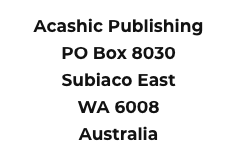 It is NOT a requirement but you are welcomed to provide any copies of materials with your submission forms such as pictures, additional notes, digital media or any other relevant materials that might help us to handle your query more efficiently.
IMPORTANT: DO NOT SUBMIT ORIGINAL DOCUMENTS (manuscripts, newspaper cuttings, photographs) to any publisher ever. Due to the large number of submissions publishers receive, original documents are bound to go lost. Therefore, we do not take responsibility for documents getting lost.
PLEASE SUBMIT WITH A SELF-ADDRESSED ENVELOPE FOR THE SAFE RETURN OF YOUR DOCUMENTS. Unless you submit your book, draft or manuscript with a self-addressed enveloped we can not return your materials and documents. Without a self-addressed enveloped we can not unfortunately return submitted materials. Due to limited time and resources we simply can not return documents that arrive without a self-addressed envelope. In the event of extraordinary circumstances (examples, ACASHIC Team "on production" or in Holiday season when staff numbers are low), irrespective of whether there is a self-addressed envelope or not, ACASHIC reserves the right to not post back manuscripts in their self-addressed envelopes.
PLEASE FILL IN THE REQUESTED WAIVER AND RELEASE FORMS, or we can not review or assess your manuscript. If it is emailed, the email is deleted. If it is mailed without a self-addressed envelope, it is discarded and not returned. An ACASHIC Publishing representative will attend to you once we've reviewed your idea.
WHAT ELSE YOU NEED TO KNOW:
While we will do everything in our power to review and assess your submission as fast as possible, please understand that we are continually opening emails and post boxes filled with submissions.
Please be extra patient waiting on a reply. Just because we haven't come back to you, it does not mean we have not liked your creative writing. In many situations, we endeavour to get back to you as quickly as possible, because we know that you're enthusiastic about having submitted and would like a response from us as soon as possible.
Normally a submission of a book may take between 3 days and 3 months. In all instances, if we like the manuscript and or idea you will hear from us.
In all instances please submit your idea and its related corresponding documents (photos, maps, audios) with a self-addressed stamped envelope (of large size) so that your materials can be returned to you. If you do not provide a self-addressed paid-for envelope and postage we can not return your manuscript and related materials. You accept the fact that if return envelopes are not provided, we reserve the right not to return the manuscript. If you send us a larger than normal envelope with appropriate stamps, we will send you some free samples, books and audios of some of our published materials.
We would encourage you to submit several times, submit revisions and submit different works regularly. You never know, something may trigger our imagination and result in a contract.
We welcome manuscripts of all genres from every country in the world, and irrespective of your writing background.
You do not have to be a polished writer with years of writing experience. As long as you have an idea and a guideline, we will look at just about anything.
We believe in transforming ideas into best-selling books. You create it, we'll transform it. You initiate the contact, we will soon identify and champion your abilities.
Looking forward to saying hi and reading your creative ideas.
Read our Privacy Policy for an understanding on how we handle your personal information.